Century Awards
The Bradford County Historical Society instituted a Century Farm Award in 1949. Leo Wilt, Director of the Society at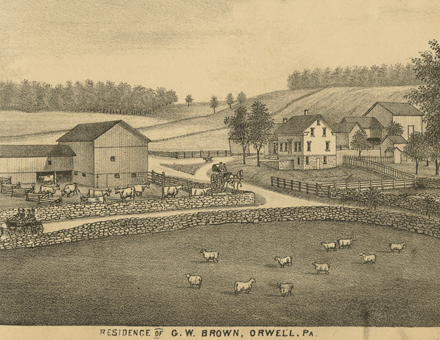 that time, adopted the idea conceived by the New York State Agricultural Society in 1937. The idea of a Century Farms Program emphasized the importance of our economic and rural heritage.
In the early days of the program, a committee from the Historical Society worked with the Pomona Grange and applications were distributed to farmers in this way. Those who were not a member of the grange obtained applications from the Society. The original plan was to award 10 certificates each year. Five would be given at meetings held in various parts of the county. The other five would be awarded at the county fair.
Over the years several farms were awarded this honor. In time, Century Homes and Century Buildings were also added to the program.
Today certificates are mailed to property owners as soon as their application is approved. There is no tax benefit or other financial advantage for receiving Century status. The program enables the Society to preserve the history of our old farms, homes and buildings. Successful applicants receive the privilege of purchasing and displaying a bronze marker on their property, signifying their Century status.


The Bradford County Historical Society does not have a program for buildings under 100 years old.
To apply for Century status for your farm, home or building, download the appropriate form below, complete it and attach the necessary information, and mail it to the Bradford County Historical Society, Att: Century Program, 109 Pine Street, Towanda, PA 18848. If you do not have all of the necessary information that is needed to apply for a Century Award, you can submit a Research Request along with the appropriate fee, and BCHS volunteers will research for you. Please note that when the research is complete, you will still need to fill out the Century Award application below. For more information about submitting a Research Request for your property or family, click on Research Requests.