The Settler
The Settler magazine is a quarterly magazine published by the Bradford County Historical Society and mailed to society members.
First published in 1952 by then Director, Leo Wilt, this magazine has covered hundreds of topics over the past 50 years. In the 1950's, articles focused on pioneer history and early county government.
Wilt wisely used The Settler as a benefit to help add hundreds of new members to the society roles.
After his death, The Settler struggled, and finally suspended publication after the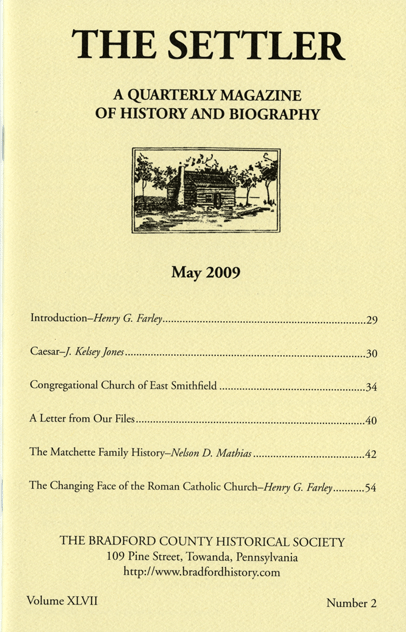 January 1961 issue.
The magazine reappeared in the summer of 1969 and the following year, Mrs. Sylvia Wilson became editor. Over the next 21 years, Mrs. Wilson and her committee published numerous issues of The Settler. In 1991, Pat Parsons took over as Editor until 1997. During 1998, the position of Editor stood vacant, but the publication continued uninterrupted. Jane Carlsen held the position from 1999 until 2002 when Henry G. Farley became editor. Farley continues as Editor at this time.
Today, The Settler magazine offers diverse topics covering all facets of Bradford County history.
Submitting an Article
There is no payment for manuscripts or illustrative materials submitted for publication. The Editor and the Society can assume no responsibility for loss of material but anything submitted will be handled with all care for its preservation. Following are guidelines to follow when preparing an article for submission.
All submitted manuscripts must be typed and double-spaced. Provide the article as a Microsoft Word document when possible. These can either be sent on a CD-R disc or emailed to the society.

Suggested word count is between 750 and 1,000. Typically, we do not accept manuscripts over 2,000 words.

If you wish to submit photos or other graphics, only include photocopies until the editor requests your originals.

Manuscripts must include historical or biographical information about Bradford County.
Materials submitted for publication should be mailed to the Bradford County Historical Society, Att: Settler Editor, 109 Pine Street, Towanda, PA 18848.
Back Issues of The Settler
Back issues of this publication can be accessed in the Research Center library. You can request copies of articles from specific issues. To search the index of topics from each issue, click here.
To access our online digital archive of past issues, become a Benefactor Member by clicking here.