Pioneer & Patriot Families of Bradford County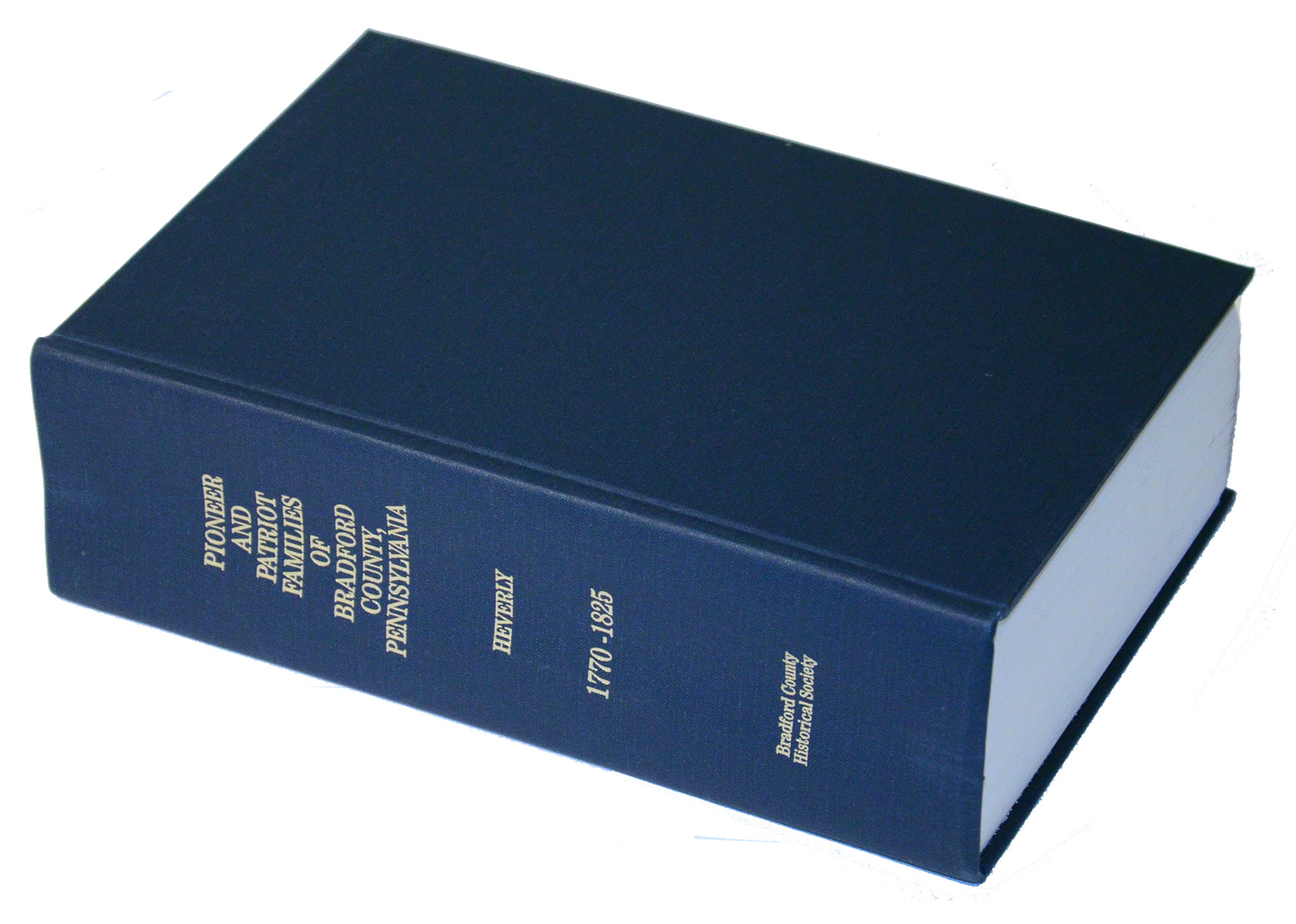 1,132 pages
Hardcover
This book was originally published as two volumes and is an excellent resource for anyone researching their Bradford County roots. These two volumes have been reprinted as one hardcover book with an added index for each volume. Following is an overview of this great publication. There is literally so much information in this book that it is impossible to give a detailed listing. Odd and unusual stories, statistics, genealogy, and much more will be found in this book! If you want to understand how your Bradford County ancestors lived, this book is a must for your library!
---
Contents:
VOLUME I
534 PAGES
Early Marriages, Justices, and Ministers in Bradford County
1766-1850
Bradford County Families
1770-1800
Bradford County During the Revolution
~Soldiers in the Revolution~
Bradford County Cronology
1615-1800
Pioneer Habits and Customs
Additions and Corrections
VOLUME II
598 PAGES
Pioneer and Patriot Families
1800-1812

Bradford County Chronology
1800-1820
Local Names, Origin and History
Dangers, Hardships and Thrilling Incidents
Other Pioneer and Patriot Families
1800-1825
Court Records
1813-1825
Marriages
1808-1812
1828-1848
Soldiers in the War of 1812
MUCH MORE!!
PHOTOS & ILLUSTRATIONS
PEOPLE
Wealthy Ann (Spalding) Gore; James Lent; Samuel Gore, Esq.; Mr. & Mrs. John Heverly; Elizabeth (Fox) Means; Marguerite St. Leon Loud; Julia H. Scott; Burr Ridgway, Esq.; Lura Crofut; Mrs. Elizabeth Heverly; Eliza Ann (Merry) McKean; Joseph Kinney, Esq.; Judge Obadiah Gore; Mrs. Lucy Gore; Ebenezer Shaw; Col. John Franklin; Richard Vanderpool; Gen. Samuel McKean; Col. Franklin Blackman; William Northrup; Col. Joseph Kingsbury; Col. Julius Tozer; William Myer; Supt. Charles R. Coburn; Hon. Reuben Wilber; Mahlon C. Mercur; Hon. Ulysses Mercur; Dr. Ethan Baldwin; Dr. Darius Bullock; Hon. Aaron Chubbuck; Hon. Edward Herrick; Hon. John B. Gibson; Hon. Benjamin M. Peck; Hon. Horace Williston; Col. William Bradford; Hon. Thomas Burnside; Mrs. Anne Wright; Col. John A. Codding; Hon. David Wilmot.
PLACES
Pioneer Grist Mill; Washington Crossing the Delaware; Goddess of Liberty; Spanish Hill; Old Kingsley House; A Pioneer Home; Allen's Lake (or Wesauking); Carantouan; Standing Stone.