A Museum in a Jail
The jail is located at 109 Pine Street in the center of Towanda's Historic District. It was designed by Susquehanna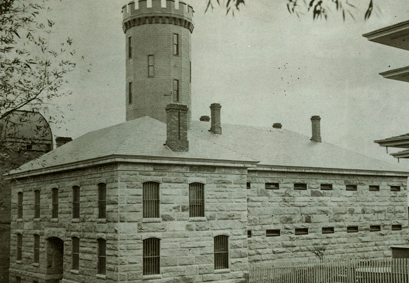 County architect, Avery Frink. He had designed a jail for Susquehanna County and was experienced in the needs of this type of facility. The County Commissioners decided to build the jail themselves under the supervision of Avery Frink, rather than contracting the work.
A parcel of land on Pine Street was purchased from the widow of Dr. E. H. Mason, who decided to sell the property after the house located there burned. Construction of the massive stone building was begun in 1871 and within two years it was completed. The three-story structure was built with stone quaried from Barclay Mountain. Two distinct sections mark this remarkable structure - the dwelling house in the front and the cell block in the back. The first prisoners were moved in on August 14, 1873 and the jail continued to service the county for the next 118 years. During that time it housed a varied group of prisoners, both male and female.
Read About Escapes from the Bradford County Jail in Local Newspapers
Read About Executions at the Bradford County Jail in Local Newspapers
Read About Life at the Bradford County Jail in Local Newspapers
In 1991, after the jail was determined to be in a rapidly deteriorating state, the County decided that a new larger and modern jail would be built in the county. The Bradford County Commissioners transferred the property to the Bradford County Historical Society in 1998.

Today, the museum features two floors of museum exhibits, which are creatively arranged in what were the cellblocks. The third floor features a genealogical and historical research library that houses a variety of resources for researchers.